Am I Allowed to Refuse a Breathalyzer Test?
January 2, 2021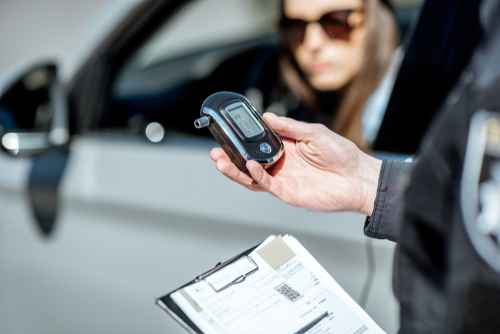 Nobody wants to get pulled over. But what happens when you are pulled over and the officer suspects you of drunk driving? The lights and sirens have your heart rate flying and your adrenaline pumping. You have had a couple drinks, but not sure if you will pass the test. You are thinking about  refusing the test. Should you do it? 
Field Sobriety Tests
It's  important to remember there are different kinds of field sobriety tests the officer will perform, and there is no cookie cutter answer as to whether you should take the test. It mostly depends on which test the officer asks you to take. 
Let's start with the basics: What kind of field sobriety tests will a police officer ask a suspected drunk driver to perform? To test your sobriety, an officer may ask you to stand on one leg, follow an object with your eyes or take a short walk, turn, and walk. While you do not have to consent to these, your refusal to do so may wind up being used against you should you wind up in front of a judge. 
Breath Test Refusal
If an officer suspects you of driving under the influence of alcohol, they will almost certainly ask  you to take a breathalyzer test. At this point, many people react incorrectly. While you may fear not passing and therefore think refusing the test will help you, quite the opposite is true. New Jersey (and the rest of the country) considers driving a privilege, not a right. All New Jersey drivers give implied consent for sobriety tests when issued their license. As such, Miranda Rights do not apply to a breathalyzer. In other words, your silence equates to refusal, which carries with it minimum penalties of  loss of license 7-12 months, with $300-$500 in fines. Any refusal will result in a presumptive blood alcohol rating of .08%. 
Several other actions can result in "refusal" charges. Giving too short a sample, or no sample at all, refusing to take the test in a reasonable amount of time, not giving enough breath samples, or otherwise unclear or conditional responses (i.e. wanting to make a phone call, have a drink of water first, take a nap).  
Ways to Challenge a Breath Test
Many people think that because they will not pass the breathalyzer that they should not take it. However, there are many ways to possibly get the results of a test dismissed. Perhaps the machine was not properly calibrated? Perhaps the machine did not receive a proper sample? Perhaps the officer misplaced some key paperwork regarding the upkeep of the breathalyzer? There are many ways to get  breathalyzer results dismissed, but it is exceedingly difficult to throw away a refusal charge. Many times, for first time offenders, the penalties are less severe for blowing over the limit than refusing.
Contact an Experienced Hazlet DUI Defense Lawyer About Your DUI Charges in New Jersey
Were you arrested or charged with a DUI in New Jersey? The consequences of a conviction could be severe, leaving you with a permanent criminal record and possibly even sending you to jail. That is why you need to speak with a qualified DUI defense attorney as soon as possible about your case. The attorneys at Rudnick, Addonizio, Pappa & Casazza PC have successfully represented clients charged with DUIs in Middletown, Howell, Marlboro, Manalapan, and throughout New Jersey. Call (732) 264-4400 or fill out the online contact form to schedule a consultation with a member of our legal team. We have an office conveniently located at 25 Village Ct., Hazlet, NJ 07730, as well as offices located in East Brunswick.
The articles on this blog are for informative purposes only and are no substitute for legal advice or an attorney-client relationship. If you are seeking legal advice, please contact our law firm directly.