Are Home Health Aides Entitled to Workers' Comp if They Get COVID-19?
January 12, 2021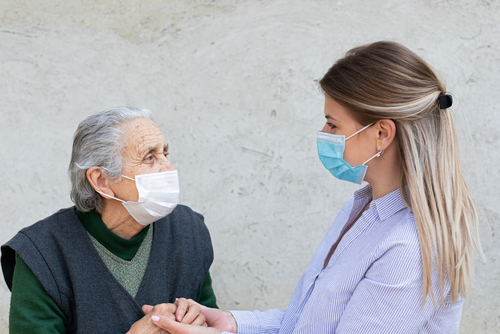 While the pandemic has hit all of us in different ways, the stresses it has put on our essential workers in the medical industry have been unprecedented. Already tasked with keeping the population healthy, the fear of an unknown and invisible threat has greatly complicated things. For home health aides, this has been especially true. As people who must enter the homes of the elderly or otherwise vulnerable, a COVID-19 case could have devastating effects on the caretaker, the patients, and the patients' family members. Because of the nature of the job, and the absolute necessity of it, home health aides must see their patients. Unfortunately, most patients' homes cannot be sterilized as effectively as a hospital room. What happens when a home health aide tests positive for COVID-19? Are they entitled to workers' compensation?
Can Home Health Aids Collect Workers' Compensation if They Contract COVID-19?
The short answer is probably. New Jersey passed a statute on September 16, 2020 (retroactive To March 9, 2020) expanding which employees in the state are eligible for enhanced coverage for workers' compensation. This new law applies to anyone fitting into the state's guidelines for an "essential employee." The state defines an essential medical employee as anyone who provides healthcare or medical services, including medical transport, direct patient interaction, and social and other care services. Home health aides fall under this umbrella.
How Does This New Statute Impact Home Health Aides?
The new law works by creating a "rebuttable presumption" that largely protects the employee. By placing the burden of proof on the employer, it presents the nearly impossible task of proving an employee could not have contracted the virus at work. This is, of course, virtually impossible. Even with the most thorough cleaning methods, any job that requires a person to interact with the public carries inherent risk in spreading the disease.
When it comes to home health aides specifically, interaction with the public in their patients' homes is a key responsibility of the job. Thus, as a home health aide entering people's homes, and then also providing them with healthcare and medical services, they are covered under this broad new law. Workers' compensation benefits remain effectively the only recourse for an employee suffering from a work related COVID-19 infection.
How Does This Impact Employers?
This new statute also has some built in protections for employers. Under the new law, any compensation paid out for COVID-19 related claims will not affect the employer's insurance premiums.
Additionally, barring gross negligence or intentional misconduct on the part of the employer, any application for this new statute protects the employer from judicial personal injury claims.
Contact a Marlboro Workers' Compensation Lawyer to Discuss Your New Jersey Workplace Injury Case
A workplace injury can be devastating, particularly if it prevents you from returning to work for an extended period of time. Although New Jersey Workers' Compensation laws are supposed to provide you with reimbursement for medical expenses and replacement pay for missed time at work, it is not always easy to get the Workers' Comp benefits you deserve. That is why you should speak with a knowledgeable Workers' Compensation lawyer about your situation and get guidance throughout the claims process. The experienced Workers' Compensation attorneys at Rudnick, Addonizio, Pappa & Casazza PC represent clients in Middletown, Howell, Marlboro, Manalapan, and all across New Jersey. Call (732) 264-4400 or fill out our online contact form today to schedule a consultation about your work injury case. Our main office is located at Park Village, 25 Village Court Highway #35, Hazlet, NJ 07730, and we also have an office in East Brunswick, NJ.
The articles on this blog are for informative purposes only and are no substitute for legal advice or an attorney-client relationship. If you are seeking legal advice, please contact our law firm directly.