Animal Attacks – What to Do Next
July 10, 2019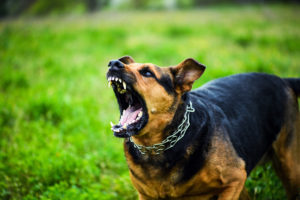 Lingering Effects of an Animal Attack
Animal attacks often come out of nowhere and change your life in seconds. An animal attack can harm you both physically and emotionally. It can leave you with expensive medical bills and a fear of being around other animals. You might also fear being near environments where animals are present.
Important Steps Following a Manalapan Animal Attack
It is normal to feel afraid and confused after suffering an animal attack. It is important to take the following steps after:

Seek medical care: It is best to seek medical care immediately following an animal attack. Even if you feel fine, the adrenaline from the animal attack can mask more serious of injuries. Additionally, it can be difficult to connect the injury to the animal attack if you do not seek immediate medical care.
Report the dog bite: The hospital may help you report the dog bite. However, if they do not, you should file a report with your local county. The report will include information about what happened, the location, and any necessary information about the animal.
Collect documentation: It is also important to document everything regarding the animal attack. Keep track of all medical documents. Take images of the attack injury, if possible. It may also be important to collect contact information from the dog's owner.
Contact a lawyer: Depending on the details of the animal attack, you may be eligible for compensation from the animal's owner.
Your Legal Rights Following a New Brunswick Animal Attack
Your legal rights following an animal attack depend on the details of the attack. In most cases, however, the owner is responsible for the actions of their animal. To ensure that you follow all of the necessary steps of filing a case, it is best to consult with an animal attack lawyer as soon as possible.

Your lawyer will begin collecting important information about the animal attack. They will determine who is responsible while also looking at the impact of the animal attack has had on your life. An animal attack can leave you with skin lacerations, facial injuries, head or neck injuries, internal bleeding, infection, and even Rabies. Many animal attack victims will also suffer from emotional consequences, which can be more difficult to put a number on.

Depending on the details of the animal attack, you may be eligible for the following damages:

Emergency transportation costs
Lost wages and work benefits
Every animal attack case is different. It is important that you speak with a personal injury lawyer that can help you determine who is responsible for yours. Fortunately, if you and your lawyer decide to pursue damages from the responsible party, you do not have to pay anything up front. You only pay if the legal team is able to collect compensation on your behalf, meaning there is no risk to you. In some cases, a settlement is available which means you don't even have to go through a lengthy court process.

However, if a settlement offer does not fully cover your damages, then we are ready to diligently fight to get you what you deserve. If an animal's owner does not take the necessary steps to prevent them from harming another person, then it is only right that they cover the damages incurred.

Contact a Freehold Personal Injury Lawyer to Discuss Your Animal Attack Case in New Jersey
Did you or a loved one sustain serious injuries due to an animal attack in New Jersey? Don't let the medical bills pile up while you wait for the negligent party or their insurance company to do the right thing. Right now, you need an aggressive personal injury attorney on your side, fighting to get you the compensation you need, want, and deserve. The skilled attorneys at Rudnick, Addonizio, Pappa & Casazza represent clients injured because of animal attacks in New Brunswick, Perth Amboy, East Brunswick, Hazlet and throughout New Jersey. Call 866-567-0135 or fill out our online contact form to schedule a consultation about your case. We have an office conveniently located at 25 Village Ct, Hazlet, NJ 07730 as well as an office in East Brunswick, New Jersey.

The articles on this blog are for informative purposes only and are no substitute for legal advice or an attorney-client relationship. If you are seeking legal advice, please contact our law firm directly.