4 Most Common Workplace Injuries During the Holiday Season
December 2, 2021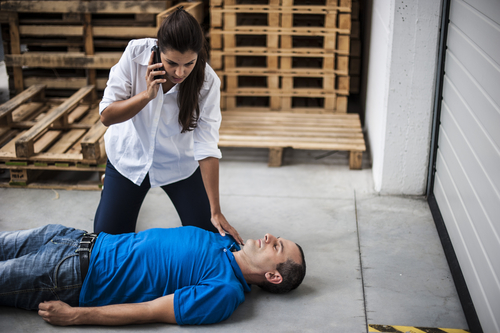 Many people know that the rate of accidents, especially those related to DUIs and distracted driving increases during the holiday season. But, did you know that workplace injuries also increase during this time? Here are a few of the most common causes of workplace injures to be aware of during the holiday season:
1. Truck Accidents
Commercial truck accidents are a common occurrence during the holiday season as drivers try to meet productivity goals. Not only is it the last quarter of the year, but many truck drivers are expected to work longer hours to keep up with holiday shopping demand. When you pair this with winter weather, it can lead to more accidents.
2. Decorating Accidents
Many small businesses want to get in on the fun of decorating. Not only does this draw additional attention to their storefront, but it also puts all the employees in the holiday mood, increasing morale. This also leads to an increase in slips and falls, especially from ladders as employees decorate rooftops.
3. Fire Hazards
Workplaces are at an increased risk of building fires, just as households are during the holiday season. Employees may improperly wire lights or try to cook large meals for employees and forget to turn off cooking items when going home at the end of the day. Commercial businesses may be more at risk of fire hazards with employees taking more days off for the holidays.
4. Physical Injuries
Not only are employees expected to deliver packages faster during the holiday season, but they're also often expected to carry heavier items. This can lead to an increase in physical injuries. Employees may be injured due to repetitive strain injuries or by lifting items too heavy for them.
How to Stay Safe at Work This Holiday Season
How do you stay safe during the holiday season while still following your employer's directions so as to not risk your job? Here are a few tips:
Know your rights: You have a right to a safe work environment. If you feel that something is wrong, such as your employer requiring that you work too many hours without sufficient pay, or to lift items you're not trained for, reach out to a professional to explore your options.
Know your limits: It's also important to know your own limits. While you may be tempted to work longer hours to supplement the high costs of the holiday season, this may not be worth it if you overwork yourself and become injured.
Make sure you receive adequate training: Many employers hire temporary staff to help them with the busy holiday season. This may lead to less training, which can lead to injuries.
Slow down: Moving too fast, especially in a warehouse or while delivering items, can be dangerous. Slow down to a speed that is safe.
If you're injured on the job, it's important to know your rights. Most employers in New Jersey are required to carry workers' compensation insurance. This is a type of insurance that covers things like your medical bills and lost wages if you're injured while at work. If you have questions about these benefits or were injured at work, reach out to a lawyer.
Contact a Howell Workers' Compensation Lawyer to Discuss Your Workplace Injury Case
A workplace injury can be devastating, particularly if it prevents you from returning to work for an extended period of time. Although New Jersey Workers' Compensation laws are supposed to provide you with reimbursement for medical expenses and replacement pay for missed time at work, it is not always easy to get the Workers' Comp benefits you deserve. That is why you should speak with a knowledgeable Workers' Compensation lawyer about your situation and get guidance throughout the claims process. The experienced Workers' Compensation attorneys at Rudnick, Addonizio, Pappa & Casazza PC represent clients in Middletown, Howell, Marlboro, Manalapan, and all across New Jersey. Call (732) 264-4400 or fill out our online contact form today to schedule a free consultation about your work injury case. Our main office is located at Park Village, 25 Village Court Highway, #35 Hazlet, NJ 07730, and we also have an office in East Brunswick, NJ.
The articles on this blog are for informative purposes only and are no substitute for legal advice or an attorney-client relationship. If you are seeking legal advice, please contact our law firm directly.