Learn More About Jet Ski Accidents
July 12, 2017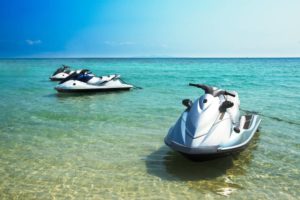 With summer heating up, so is the use of jet skis. Jet ski accidents are on the rise, and now more than ever an operator needs to be vigilant about safety when driving these motorized machines. Accidents involving jet skis are more common that you think. No one wants a day on the water to turn deadly, which is why it's important to understand the causes of these accidents.
Human Error
One of the most common causes of jet ski accidents is human error. Many inexperienced drivers take to the water in the summertime to try a jet ski for the very first time. Their inexperience operating these types of machines can cause an accident without warning. They don't understand the basic functions of the equipment and end up causing an accident because they failed to recognize the proper instructions for operation.
Drunk Driving
Summer is also the perfect time to enjoy a few drinks. It is when a driver is drinking that jet ski accidents can turn deadly. An operator that is intoxicated has slower reflexes and is unable to maneuver the machine as deftly as is needed around obstacles on the water, causing an accident they can't recover from.
Flipping Over
Jet skis are prone to flipping over. Slight movements at high speeds can cause these machines to overturn without notice. This can trap a driver underwater, causing them to drown or collide with another jet skier, creating even more havoc on the water.
To avoid a jet ski accident, take the time to understand how these machine operate and be sure not to mix alcohol when you are operating on the water. If you or someone you love has been injured as a result of a jet ski accident due to the negligence of another, you may be eligible for compensation for your injuries. The qualified attorneys at Rudnick, Addonizio, Pappa & Casazza can evaluate your case and determine your legal actions. Contact us today to find out what your legal rights are.